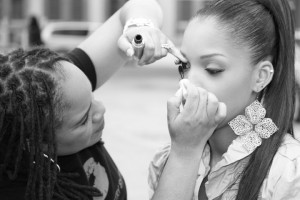 Tish H. Perkins, is an Multi-Award Winning, Professional  Makeup Artist and Certified Eyelash Extensionist based in Virginia with eight years of experience in fashion, bridal and event makeup. She has participated in many diverse professional photo shoots and is highly skilled in traditional and airbrush makeup application, tattoo concealment lash extensions and face and body waxing.
Tish's diverse background and experience creates a unique style accredited to her personality and artistic talent. She has the innate ability to bring out the natural beauty of her subject, no matter the gender or ethnicity. Tish's specialty is customizing color and working with a variety of skin tones.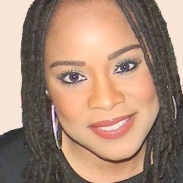 Tish was a member of the "Glam Squad" for the 2011 Miss Black USA Pageant.
She was also the Official Makeup Artist for the Fashion Show for the Indian Wedding Expo in D.C. and Virginia
Tish was the exclusive makeup artist for the Promotional Shoot for The Hat Factory's Roundup Girls.
Tish was Go Pretty's 2011 1st Annual Beauty Pro Award Winner, and she was nominated for Makeup Artist of the Year in the 3rd Annual Black Beauty Awards. Tish is also the recipient of Wedding Wire's Bride's Choice Awards for 2012 and 2013.
She was named "Beauty's Newest Rising Star" by Hair Styling Legend Louis Licari from the Today Show's Ambush Makeover and Top Industry Experts.
   Celebrity clientele have included Legendary Comedian and Emmy Award Winning Martin Short,  Tiffany Maiyon from the Vh1 Show, "Tough Love," and the CD cover look for  Sharon Rae North of 32 Bar Records. Recently, Tish was commissioned by NBC Universal's Comcast SportsNet Show to do makeup and grooming for anchor and reporter Chick Hernandez and five Great Redskins Legends (Mark Moseley, Gary Clark, Chris Cooley, and Ray Schoenke) who were filming in Richmond.
Tish is one of the exclusive on-call makeup artists for the Award Winning Salon Debonaire in Richmond and  for the Sandler Center for the Performing Arts in Virginia Beach.  She is also a guest beauty blogger for The Real Housewives of Northern Virginia and was  one of the official makeup artists for Crystal Couture Week 2012.  
Tish appeared as a guest member on the first episode of "What's The Tea With Malcom V."   the "Style Episode."  The Talk show is about Richmond's influencers, defining characters & most interesting people.
And, be sure to check out Tish's exclusive Makeup Artistry on the models of  the new website, Majesty's Closet, an online plus size boutique, owned by sisters  Toni Reason and Tionna Smalls, of the VH1 Show, "What Chilli Wants."
Tish can service clients in her studio or provide services on-site at your location. She travels nationally and worldwide.
Please use Contact Page to inquire about bookings, individual and/or group rates and Tish's availability.